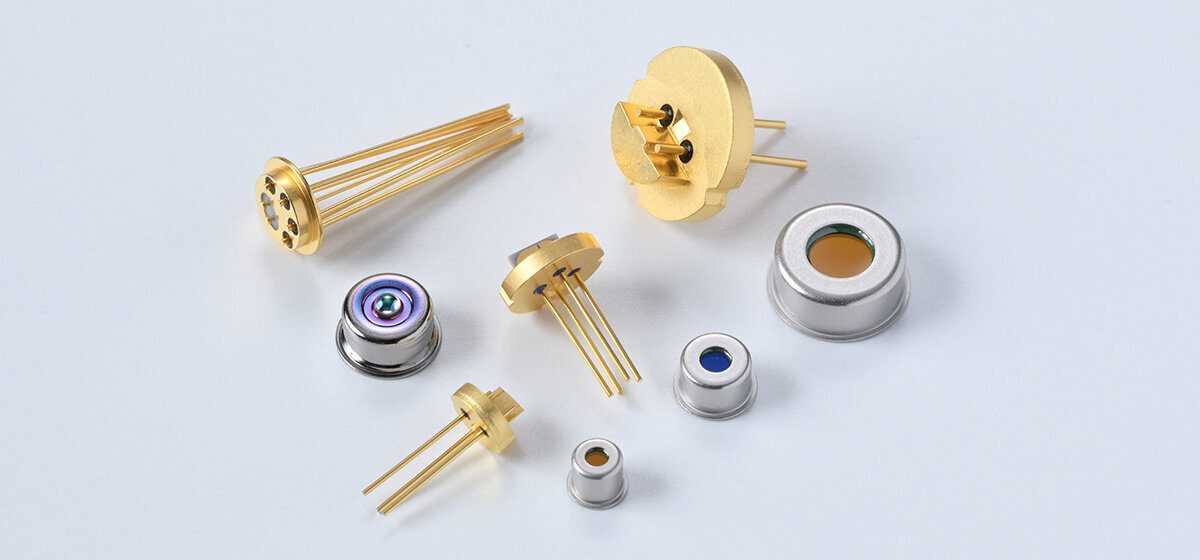 A glass-to-metal seal, is characterized by its hermeticity and superior electrical characteristics. It is used widely in areas such as laser diodes and sensors for in-car use, where reliability is an important factor.
At SHINKO, we offer not just the industry standard for laser diodes for optical pickups, the ø5.6mm-type, but also caps with stems or window-glass, depending on the needs of customers.
As we react flexibly to diversifying customer needs, we are able to carry out all the integrated production processes (from product design, mold design, stamping, to plating), based on a thorough quality management regime.
Concept
A package, made of metal and glass, with superior electrical characteristics and hermeticity
Optimum for laser diodes, on-board sensors, and other devices where high reliability is vital
Features
Extremely airtight (compression type:1x10-9 Pa m3/sec and lower)
High thermal conduction properties (Fe/Cu/Fe clad type and copper-block type)
Structure
Two types of structures, the 'matched type' and the 'compression type',depending on the type of glass sealing used

Header : Matched Type
| No. | Parts | Material | Thermal expansion ratio (α) |
| --- | --- | --- | --- |
| 1 | Eyelet | Kovar | 48×10-7/°C |
| 2.3 | Lead | Kovar | 48×10-7/°C |
| 4 | Glass Tablet | Hard glass | 48×10-7/°C |
(α = Average of temp.from 30°C to 450°C)
Header : Compression Type
| No. | Parts | Material | Thermal expansion ratio (α) |
| --- | --- | --- | --- |
| 1 | Eyelet | Steel | 150×10-7/℃ |
| 2.3 | Lead | 50%Ni-Fe | 97×10-7/℃ |
| 4 | Glass Tablet | Soft glass | 97×10-7/℃ |
(α = Average of temp.from 30°C to 450°C )
Cap ( Pb Free )
| No. | Parts | Material |
| --- | --- | --- |
| 1 | Eyelet | Ni-Fe |
| 2 | Window | Clear glass |
| 3 | Adhesion | Low temperature glass (Pb Free) |
Application
In laser diodes[LD](optical pickups and optical communications devices)
In sensors for automobiles
In transistors , ICs and LEDs
Open Tool