Environmental Management System
The Shinko Group in Japan has developed an environmental management system and employs the PDCA cycle in an effort to make continual improvements and enhance its environmental performance to practice eco-friendly business operations under its Environmental Policy. The Shinko Group in Japan has acquired ISO 14001 integrated certification as a member of the Fujitsu Group, and overseas manufacturing subsidiaries are certified by each company. Below is a report on the activities of the Shinko Group in Japan.
Promotion System
We have established an environmental committee chaired by the President to promote environmental management. As the highest decision-making body related to environmental measures, the committee drafts, deliberates, and decides matters concerning environmental management.
We have also established an environmental measures execution committee as a subordinate organization to the environmental committee that deliberates matters such as the progress of activities to achieve environmental goals. Based on this promotion system, we maintain and improve our environmental management system and work to integrate activities to reduce environmental impacts into our business operations.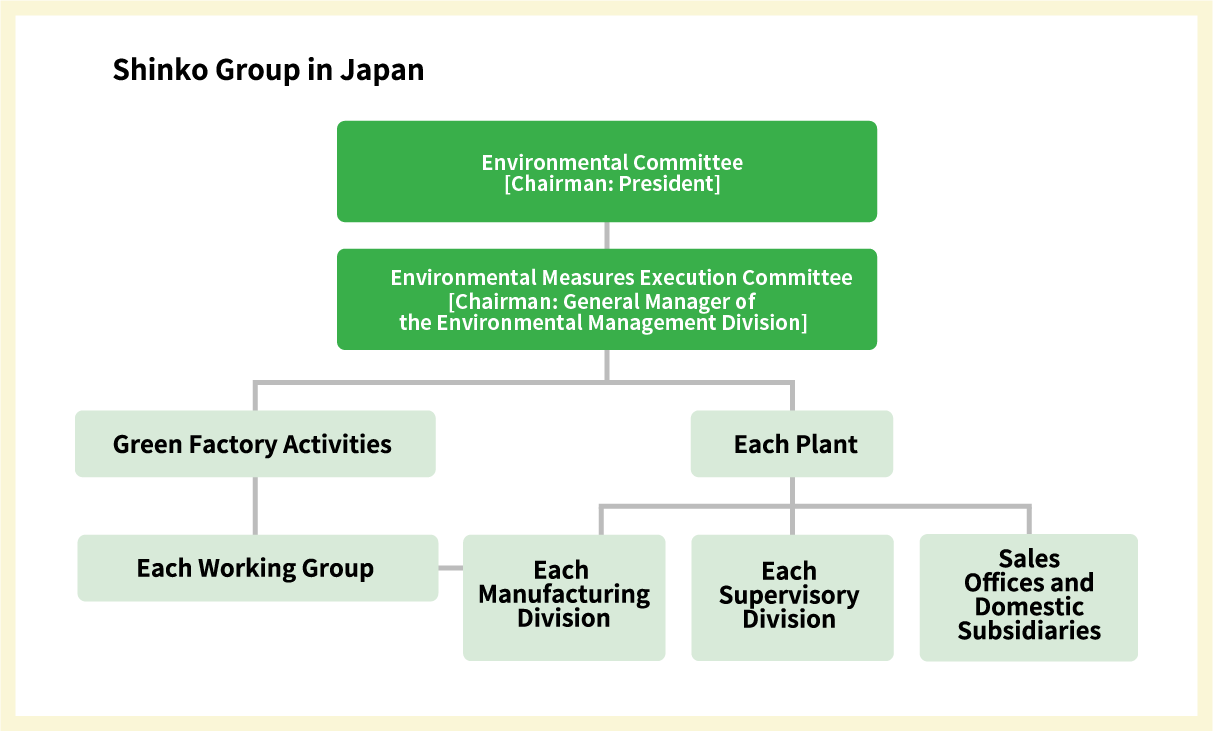 Environmental Audits
Every year we conduct our own internal environmental audit, in addition to one conducted by the Fujitsu Group, to check the effectiveness of our environmental management system and legal compliance.
The audits are conducted by internal environmental auditors, including environmental management system examiners (personnel qualified to examine ISO 14001 conformance). We continually improve our management system through the internal audits.
Response to Environmental Laws and Regulations
We strive to comply with national environmental laws and regulations as well as prefectural and city regulations, pollution prevention agreements, industry guidelines, and environmental requests from customers.
Status of Environmental Management System ISO 14001 Certifications
SHINKO ELECTRIC INDUSTRIES CO., LTD.
Registered Sites
[SHINKO]
Plant:Head Office(Kohoku), Wakaho, Takaoka, Arai, Kyogase, Aizu Branch, SHINKO R&D Center
*Domestic Sales Office included in the organization's Kohoku Plant
[SHINKO Group]
SHINKO PARTS CO., LTD. , SHINKO TECHNOSERVE CO., LTD.
Certification Organization
Japan Audit and Certification Organization for Environment and Quality(JACO)/DNV GL Business Assurance Japan K.K.
Certification No.
EC98J2005-D601
Registration Date
Sep. 12, 1995
SHINKO ELECTRONICS (MALAYSIA) SDN. BHD.
| | |
| --- | --- |
| Certification Organization | Bureau Veritas Quality International |
| Certification No. | E130430 |
| Registration Date | Oct. 18, 2000 |
KOREA SHINKO MICROELECTRONICS CO., LTD.
| | |
| --- | --- |
| Certification Organization | Korean Foundation for Quality |
| Certification No. | EAC-06428 |
| Registration Date | Jul. 3, 2003 |
SHINKO ELECTRIC INDUSTRIES (WUXI) CO., LTD.
| | |
| --- | --- |
| Certification Organization | Bureau Veritas Quality International |
| Certification No. | CNBJ312185-UK |
| Registration Date | Feb.14, 2009 |