Plant Tours
We provide opportunities for learning through plant tours to a wide range of students from elementary school students to university students.
In addition, we host plant tours to explain to community residents our business operations and our initiatives to reduce our environmental impact.

Left:Tour of the Arai Plant by junior high school students
Right:Tour of the Wakaho Plant by community residents
Participating in Local Events
Each August, our employees participate as dancers in the Nagano Binzuru Festival held in Nagano City and the Arai Festival in Myoko City,and interact with local residents.
In addition, each plant sponsors and cooperates with local events.

Left:Nagano Binzuru Festival
Right:Arai Festival
Initiatives at

O

verseas

Sites
Once a year, SHINKO ELECTRONICS (MALAYSIA) SDN. BHD. (SEM: Malaysia) makes donations to an orphanage. SEM also donates food and clothing, in addition to money. Moreover, SEM employees visit the orphanage and spend time with the children.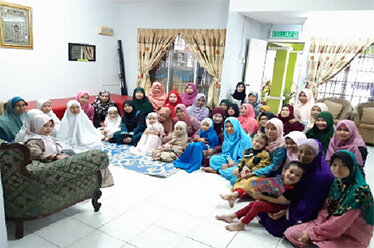 Visit to an orphanage