Participating in an Adopt-a-Forest Program
Taking advantage of the adopt-a-forest program promoted by Nagano Prefecture, we concluded an agreement in October 2014 to conduct maintenance in collaboration with Iizuna Town in forests owned by the town around Lake Reisenji.
Since then, we and our labor union have co-organized forest maintenance work every year, including the planting of sapling and clearing of undergrowth.

Left:Activities in the adopt-a-forest program
Right:Tree planting
Beautification Efforts around Plants
Each year, our employees pick up trash and cut grass and dead branches along embankments and rivers around all of our plants during June, which is Environment Month.
Also, KOREA SHINKO MICROELECTRONICS CO., LTD. (KSM: Korea) conducts annual cleanups along the roads and a river near its plant.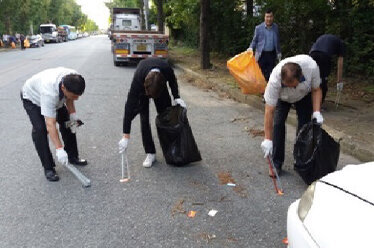 Cleanup activities around plants being conducted by KSM
Donation to the Fund for Tree Planting Activities
Since July 2005, we have collected used pre-paid cards, stamps, and others, which we donate to funds for tree-planting.